We are getting towards the end of our breakdown of PSU's 2007 campaign. We stagger into week eleven to break down Temple. Well, i guess one can't break Temple down more than they already are. There is only really one question about Temple's team; how terrible will they be? The answer, of course, is quite terrible. If you want to check out a Temple blog, which is actually quite good, go to
Temple Football Forever
.
The Owls' Passing Attack:
Temple only threw for 1944 yards in 2006 with frosh QB Adam Dimichele under center. That is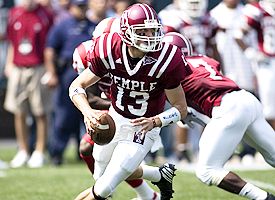 only 162 yds/game. On the bright side, Dimichele will return to start and did throw an accurate ball as he completed over 61% of his passes. Dimichele has also lost two of his four favorite targets due to graduation but does return Francis and Shelton who combined for 828 yds receiving and 7 TDs. Essentially, these two players accounted for 43% of the Temple passing attack. The Owls are ironically pitiful through the air. Even Northwestern passed for more yards and TDs than the lowly Owls. However, if a young but large o-line (4 starters are 30+ Lbs) can keep Dimichele's uniform clean they should have a chance to improve in 2007.
The Owls' Rushing Attack:
Gone is Tim Brown who, for all intents and purposes, was the Owl's offense in 2006. Brown rushed for 731 yds averaging 4 yds/carry in 2006
and
he caught 33 passes for 218 yards. The man accounted for over 1/3 of every yard Temple gained in 2006. Marcellous Grigsby, a red-shirt Junior) replaces the talented Mr. Brown in the backfield. Grigsby must be doing something right as he beat-out Jason Harper who backed up Brown last fall. As Grigsby goes so will the Owls' 2007 campaign.
Via the Philly Inquirer
The Owls' Defense:
The Owls gave up 41 pts/game in 2006. In the MAC. That is not good, in fact, it is terrible. The Owls have to get that number down into the 20s before they can be taken seriously.
Predictions:
The Owls went 1-11 in 2006 but they return an incredible number of young players with experience after getting through a trying season. This years Temple team will undoubtedly be better than last years but a few key losses could retard any progression the Owls seem poised to make. I think Temple will get 2 wins this season.
PSU: 55
Owls: 0
GO STATE! ONLY 8 DAYS LEFT!